Bring Your Bible to School Day – Students, mark your calendar for Bring your Bible to School Day. Tell your friends, family and everyone! Share this blog post so others will know about it too. Do you know that what you bring to school says a lot about you. You can bring a lot of things to school, Why not bring your Bible? #BringYourBible #BgBg2
October 3, 2019 marks Bring Your Bible To School Day. (BYB)
Bring Your Bible To School Day first started in October 2014. So this year, 2019, marks the fifth year. It is sponsored by Focus on the Family. So students can legally take their Bible to school! Bring your Bible comes just after See You at the Pole. Don't forget to order your Life Books for students to hand out to their peers.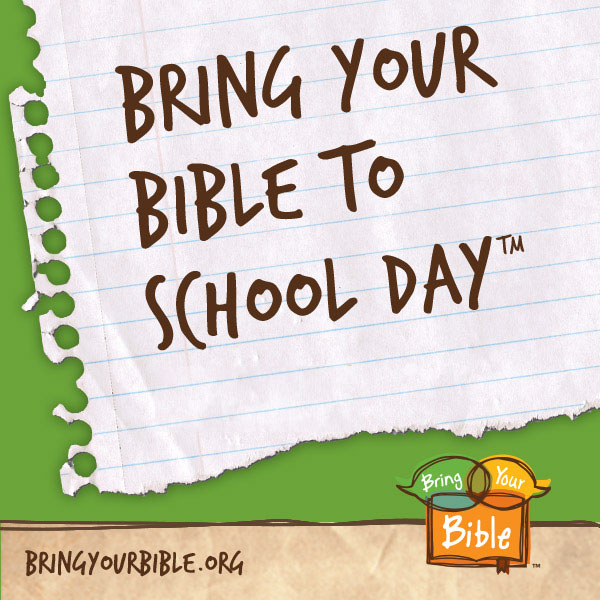 Bring It. Share It. Live It.
Bringing your Bible can help show your support for a freedom that is being taken away from as a Christian. Bring your Bible can help show that you are a Christian and you are proud of being a Christian.
Students have a right to bring their Bibles to school. Yet some report feeling pressured to hide their faith by school teachers and administrators due in part to the cultural censorship of faith that exists in public education from kindergarten to college. Check out know your rights!
Don't be ashamed of the Gospel!
"We're thrilled to be able to help spread the news about this event to students and their families. Students' freedom to express their faith at school is an issue that's really close to our hearts. Our newest song, 'Guilty,' deals directly with the topic. That's also why we're supporting the thousands of students participating in 'Bring Your Bible to School Day.'"

Newsboys lead singer Michael Tait
Focus on the Family reported In 2017, the initiative saw its widest reach ever—with close to 500,000 students participating in schools nationwide.
It's time for Bring Your Bible To School Day! #BringYourBibleToSchoolDay #BringYourBible
Click To Tweet
5 Reasons to get involved.
Stand for Students' Rights
Share God's Hope
Be An Example
Live Your Faith
Pump Up Your Brain Power!
"For the word of God is living and powerful, and sharper than any two-edged sword, piercing even to the division of soul and spirit, and of joints and marrow, and is a discerner of the thoughts and intents of the heart."

Hebrews 4:12
Hebrews 4:12 (above) shows us that the Word of God is powerful, why else would places want it removed. Bring Your Bible To School Day is a way to take a stand and shed light in a dark world.
Bring your Bible may be a good way to share the hope that is in you. "But in your hearts revere Christ as Lord. Always be prepared to give an answer to everyone who asks you to give the reason for the hope that you have. But do this with gentleness and respect," 1 Peter 3:15
Don't be Ashamed and take a stand. "For I am not ashamed of the gospel of Christ, for it is the power of God to salvation for everyone who believes" Romans 1:16
This may be a great day for your youth or children to hand out Life Book's (Gospel of John).
2019 Video (You Won't Stand Alone)
2018 Video (Something Bigger to Believe In)
Check out this 2017 Video (Be Bold. Be Strong. Bring Your Bible.)

Check out this 2016 Video (Bring It. Share It. Live It.)
This is a day when thousands of students will share God's hope and celebrate religious freedom — #BringYourBible to School Day! Sign up at http://www.focusonthefamily.com/bring…. Learn more at http://www.bringyourbible.org
For more information visit: bringyourbible.org
In 2014 it was on October 16. This event is part of A Day of Dialogue & Focus on the Family.
First published September 24, 2014. Information from a press releases and website. Last published or updated on August 22, 2019. #BringYourBible
[recent_post_carousel design="design-1″]